I was prompted to write this because of the increasing restrictions in France due to environmental concerns and the impact anchoring has been having on the sea grass/Posidonia. This means that in many places along of the French coast, yachts will have to anchor in water >30m depth.
Although the French rules have perhaps highlighted this, it is not the only place where anchoring in water deeper than 30m is required; other places include Monaco, Capri, the Amalfi Coast, some anchorages in Croatia, Greece and Turkey, the fjords in Norway and Chile and, some of the Caribbean islands – it is not uncommon.
With that in mind, and my own experience of the yachts I have run, I ran a short survey on LinkedIn to gauge how much chain yachts carry.
Although not a huge response, the results were sufficient to mirror my own experience of the amount of chain some yachts carry – in some cases, totally inadequate.
The results to "how many shackles do you carry per anchor?"
Less than 6 shackles – 18%
7 shackles – 18%
8 shackles – 33%
More than 9 shackles – 30%
Rule of Thumb
Of course, there are several 'rules of thumb' to help determine how much chain cable is laid depending on the depth of water, among other factors such as type of seabed, weather, current, length of stay, etc. Two such examples are: –
The International Association of Classification Societies (IACS) – length of chain in Metres = ratio 6 – 10 x Depth of Water in Metres.

For 30m this would be a minimum of 180m or just shy of 7 shackles.
The Admiralty Manual of Seamanship uses a formula – number of shackles = 1.5 x √Depth of Water in Metres.

For 30m this would be a minimum of just over 8 shackles.
With the above figures, if you err on the side of safety, just under 40% of yachts who responded may not have sufficient chain cable to anchor in water >30m depth and, at 35m depth, only 30% of yachts would have the recommended amount of chain. How this compares to the total fleet would be very interesting.
Interestingly, the RYA recommendation is for a minimum of 4 x Depth. For 30m depth only 4 shackles – approx. half of IACS and The Admiralty recommendation. This may be fine for recreational boats, but for superyachts this seems at odds with both IACS who test and approve anchoring arrangements for ships and superyachts, and the experienced seafarers of the Admiralty.
As RYA qualifications are inherent to Yacht Deck Officer training and certification, has their 'rule of thumb' become the standard that most superyacht crew use – again an interesting question!
There is no doubt IACS and The Admiralty are a more qualified authority when it comes to anchoring of ships and large yachts and in my opinion captains would be wise to use their 'rule of thumb' rather than the RYA.
The Mysterious Equipment Number
Until I did my Master Unlimited CoC, I never took time to consider how the size of anchor and length of chain were determined for a given vessel. That's when I learnt about the Equipment Number (EN).
Most superyachts are Classed by one of the IACS members such as Lloyds, DNV GL, ABS, RINA, etc., and they use common rules to determine the mooring equipment. This is based on the EN which is calculated for every Classed vessel – the formula is as follows: –
EN = △ ² ⁄ ³ + 2 BH + 0.1A
Where:-
△ = moulded displacement in tonnes to Summer Load waterline
B = moulded breadth, in metres
H = effective height, in metres, from Summer Load waterline, to top of uppermost house
A = area, in square metres, in profile view, of the hull, superstructure and houses above Summer Load waterline.
The resulting EN is used in a table that details the number and mass of the anchor, chain length, diameter and grade, as well as towing and mooring lines.
Excerpt from Equipment Table – note 'Total Length' of chain is normally split equally between the two anchors.
It is important to note that the EN and anchor equipment is based on the following assumptions and limitations:-Temporary mooring in harbour or sheltered waters
Current velocity: max 5 Kn
Wind velocity: max 48 Kn
No waves
Length of chain paid out, scope 6 -10
Good holding ground
The effect of waves is important – a significant wave height of just 2 metres would reduce the equivalent max current and wind velocities as follows:-
Current velocity: max 3 Kn
Wind velocity: max 21 Kn
A significant reduction in the holding power.
As most yachts use high holding power anchors (HHP) the rules also allow their mass to be reduced to not less than 75% of the table value.
Bitter End – Caution!
It is also important to know that the pin securing the bitter end to the chain locker is designed to be sacrificial and break at a load between 15% – 30% of the minimum breaking strength of the chain cable – it is designed to fail to prevent structural damage to the vessel.
It should be a fundamental part of the yachts risk assessment and procedures that, in the event of a runaway chain, the mooring team evacuate to a safe area as the flailing end of an anchor cable can have devastating effects – as was sadly experienced on Ocean Victory.
The anchor and mooring arrangements need to be carefully designed for the risks involved; unfortunately, some yachts, especially those with enclosed decks, place the windlass operator in harm's way and do not provide safe egress in the event of a failure. Like many operational aspects of yacht design, work is still required to improve safety.
A Guide to Anchoring
The video 'Anchor Awareness' produced by DNV, GARD and The Swedish Club, although based on commercial ships, is also valid to larger yachts and is a useful resource that helps demonstrate anchor procedures and safe practice and is well worth a watch – especially for junior officers and deckhands who may be part of the mooring team.
Can be accessed by taping on the image below.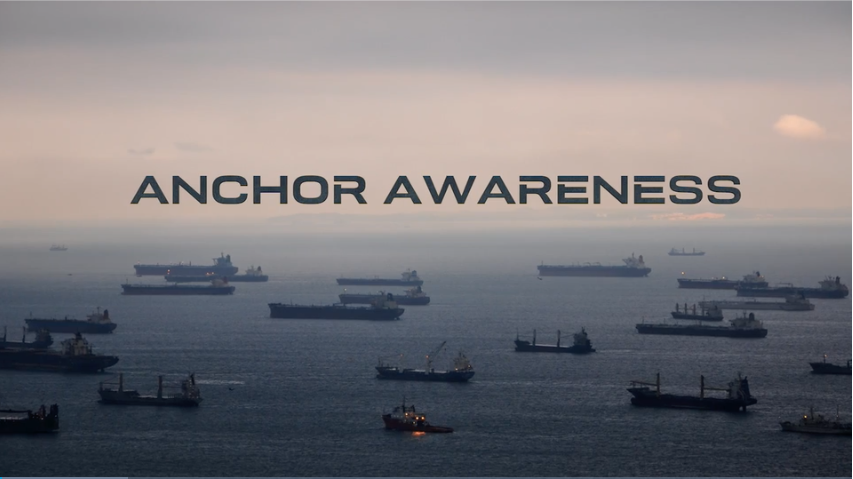 This piece was not meant as a guide to anchor best practice, but to try to assess if yachts carried sufficient chain for the intended depth, and help fill in some of the knowledge gap that may be missing from the yacht syllabus.
I hope it imparts a better understanding of how anchor and chain cable size and length are determined for yachts. And, importantly, the amount of chain paid out relative to depth that is recommended by authoritative bodies.
This knowledge may result in more secure anchoring and the provision of chain more appropriate to the expected use, water depths and conditions that may be encountered.